User reviews conducted in a closed environment
by fans of the series
Have you checked for these things before releasing your title?
Does the character's reflection in the mirror show their hair parted in the wrong direction?
Are characters speaking the way they should? Do they sound like close friends, enemies, or strangers?
Is the default difficulty too simple, even for easy mode?
Do characters appear at the right moment?
Do skills match their descriptions?
Is the UI user-friendly?
Are your tutorials easy to follow, even for beginners completely new to gaming?
Are there repetitive game mechanics that would be better automated?
This service provides reviews and feedback collected from users and fans of the intellectual property during the planning, development, and release stages of your title.
Our entertainment and gaming department consists of over 8,000 personnel, from which we have handpicked our team of quality assurance testers for their high affinity for video games. We've created a database of our personnel, based on a variety of parameters, like the types of genres, games, and entertainment they enjoy. From there, we choose the best candidates to provide a reliable sample of user reviews relevant to the client's needs and target audience.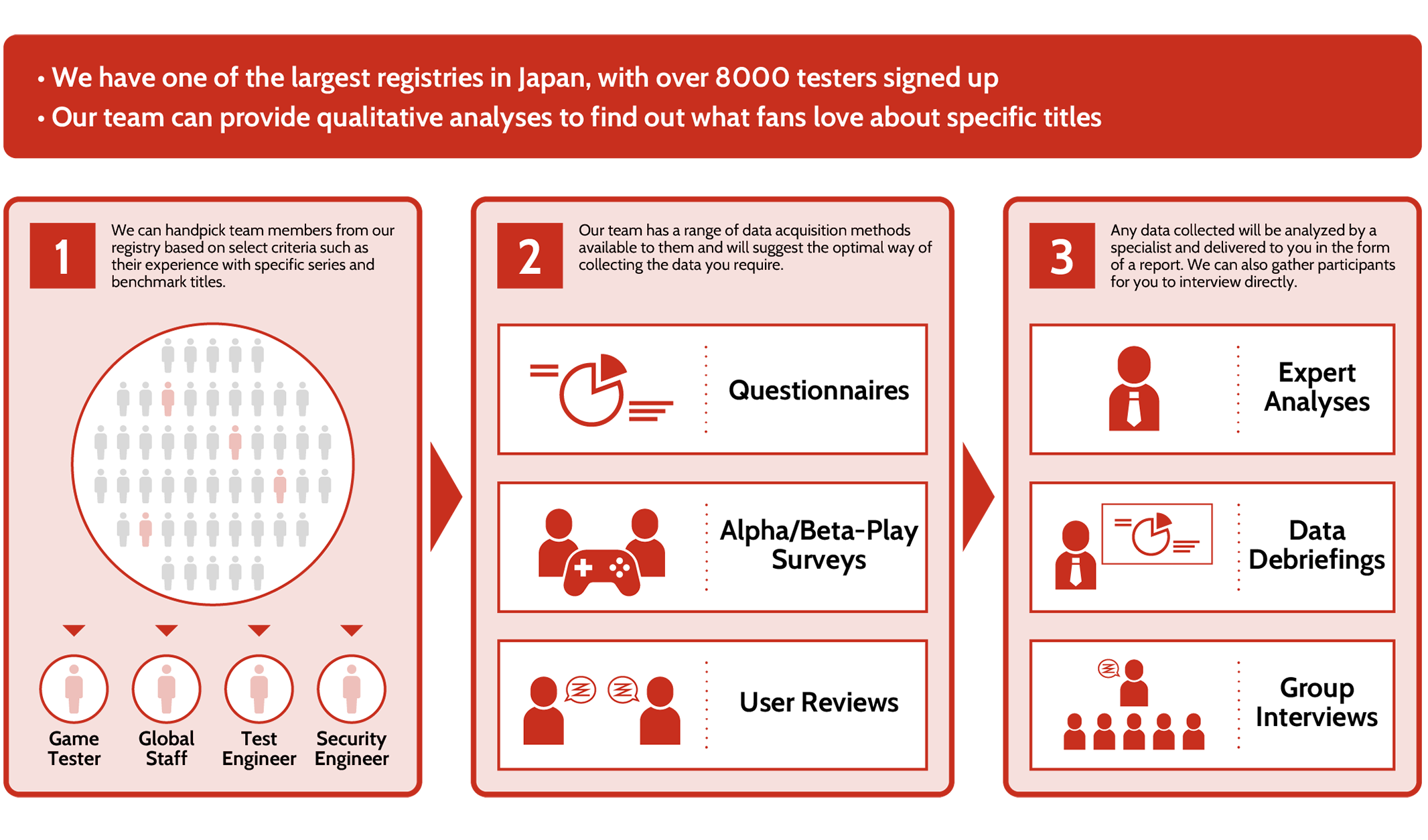 Why choose us over other companies?
What makes Digital Hearts unique is that the majority of our staff have a vivid understanding and deep appreciation of video games, anime, and other similar forms of entertainment. We also take great care to ensure our premises are highly secure, to protect the confidentiality of any applications within our possession. All of our staff have signed a nondisclosure agreement and are prohibited from utilizing their personal devices (such as smartphones) while on site. They are also regularly drilled in an effort to minimize any risk of a leak occurring prior to release.
User-informed marketing strategies
By analyzing the data from our user reviews, we are able to construct a more precise marketing strategy.
Other Options
Milestone Review
We look at whether a game functions as intended while also asking our users questions such as why they made a particular choice and what would drive them to pay for certain content.
This option is available even after a title's release.
Post-Launch Review
We form a team that will regularly play a title after release. Using a survey curated to each client's needs, the team will submit reports containing comments, issues, and questions about the title on a regular basis.
Benchmark Title Review
We evaluate already released hit titles using a set criteria, and report on their strengths and weaknesses. *We can also look into games still in development.
Playthrough Survey
We conduct large scale surveys throughout all of our branches in Japan, handling all the finer details—from managing the software and overseeing the test play to the administration of the survey—so you don't have to. Rest assured, our surveys are extremely thorough, and we take great steps to maintain confidentiality.