We have an excellent track record working with AAA titles,
boasting a 100% client retention rate*
*None of our clients reported any dissastisfaction with the quality of our service in 2021.
Multi-Channel Support
We provide support via a variety of channels including email, phone, online chat, and social media platforms.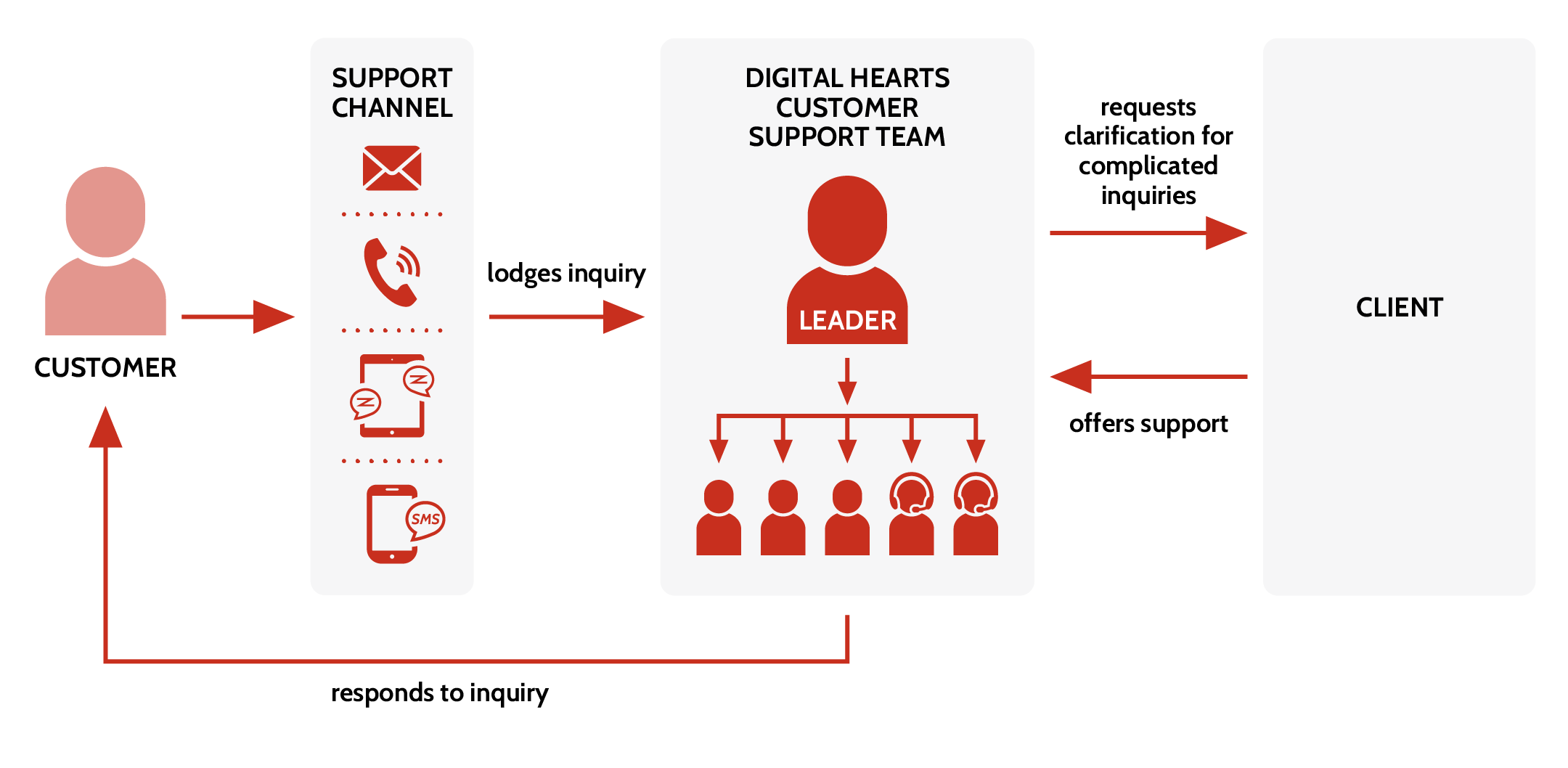 A Constantly Improving Customer Support Service
What truly sets Digital Hearts apart from other companies is our spirit of teamwork.
We work seamlessly as a team together with our clients which is the key to our success.
We try to mindful and considerate in all of communication—with our on-site operators and management crew, as well as with our debugging and sales teams, and other departments. Our client can expect the same level of care during our correspondence.
Digital Hearts has fostered an environment where all member of our team feels comfortable enough to share their ideas at any given time. We aim for the same degree of open communication with our clients as well. Our philosophy toward providing a quality service can be felt through our daily correspondence and the care we put into every report we write.
3.

One Office—Wherever We Are
Our Digital Hearts Customer Support Team currently operates out of three locations, plus WFH: Tokyo, Fukuoka, and South Korea. Though our team might be scattered across miles, we stay interconnected through a virtual office environment.
It is just as easy for our teams in Fukuoka and Tokyo to consult our office in South Korea and vice versa, creating an enjoyable work space for all of our staff.
4.

Exceptional Staff Retention Rates
Digital Hearts's welcoming and open work environment, clear career path opportunities, and value of teamwork all contribute to the high retention rate of our operators.
We have a turnover rate of 7%, which is exceptionally low for the customer service industry.
Our high retention rate means our operators stay highly skilled and highly experienced.
*Tier 1: Email and phone operators.
*Tier 2: Team leaders.
Framework for Improving Quality
Morning meetings to share information.
Service-related information is converted to actionable data.
Severe cases are noted and archived.
Data is shared with others using online, real-time communication.
Regular checks are conducted to ensure data has been adequately shared and is clearly understood.
Prior to the beginning of work, as well as before and after updates occur, a brief meeting takes place with our quality assurance team to confirm specifications, known bugs, etc.
2.

Regular Checks and Testing
A skills test is conducted before staff are assigned.
Tests to gauge proficiency are administered.
Checks are implemented before anything is sent and feedback is given immediately.
Services are monitored and routine checks are made to measure growth.
Orientation courses
Complete day-to-day operations training

Fundamental Japanese language training
GDPR training
Remote work training

Time is regularly secured to assigned staff to play titles together for work purposes.
Operations can be split across group companies abroad as a BCP measure
Joint customer support and quality assurance service to raise quality and reduce costs
Benefits to Customer Support
1. Joint customer support and quality assurance
 Quality assurance specialists are available for customer support projects that have frequent bugs. The specialist will carry out debugging tests alongside our customer support team, analyze the data from inquiries, and test the necessary devices and operating systems while holding progress meetings with your quality assurance manager.
2. Increased precision and productivity in customer support
 Assigning our customer support operators to the QA team in the final stages of quality assurance enables them to familiarize themselves with the project and the bugs that remain. It also gives them an idea of the kind of inquiries to expect, which all contributes to a higher-quality service once customer support begins.
3. Reduction in severe cases occurring in customer support
 Once customer support operators return from their tenure in QA, they have a greater understanding of the types of issues that occur from their experience using bug-tracking systems, and are better able to prevent cases from escalating when customer support begins.
Benefits to Quality Assurance
1. QA costs and work time reduced by 20%
 This is based on data from clients who have ordered a joint customer support and quality assurance package from us.
2. Quicker start due to shorter QA training time and fewer man-hours
 Customer support operators will already be familiarized with the project and the extra personnel conducting quality assurance leads to an earlier end date for QA, as well as lower costs. We also offer recommendations over which devices are best to use.
3. Higher detection of bugs during debugging and quality assurance
 In one particular case, our customer support operators were able to find 75% of the bugs in the project.
 Our customer support operators are highly efficient at locating bugs, as they are used to receiving bug reports from users, familiar with the inner workings of different projects, and routinely double-check in-game issues.