Have access to correspondence in over 14 languages within Japan—that means no pesky time zone difference!
Compliance with GDPR, CCPA and other international laws protecting personal information is also available
Multi-Channel Support
We provide support via a variety of channels including email, phone, online chat, and social media platforms.
Available Languages
We offer services in over 14 languages, including English, Traditional Chinese, Simplified Chinese, Korean, French, Italian, German, and Spanish.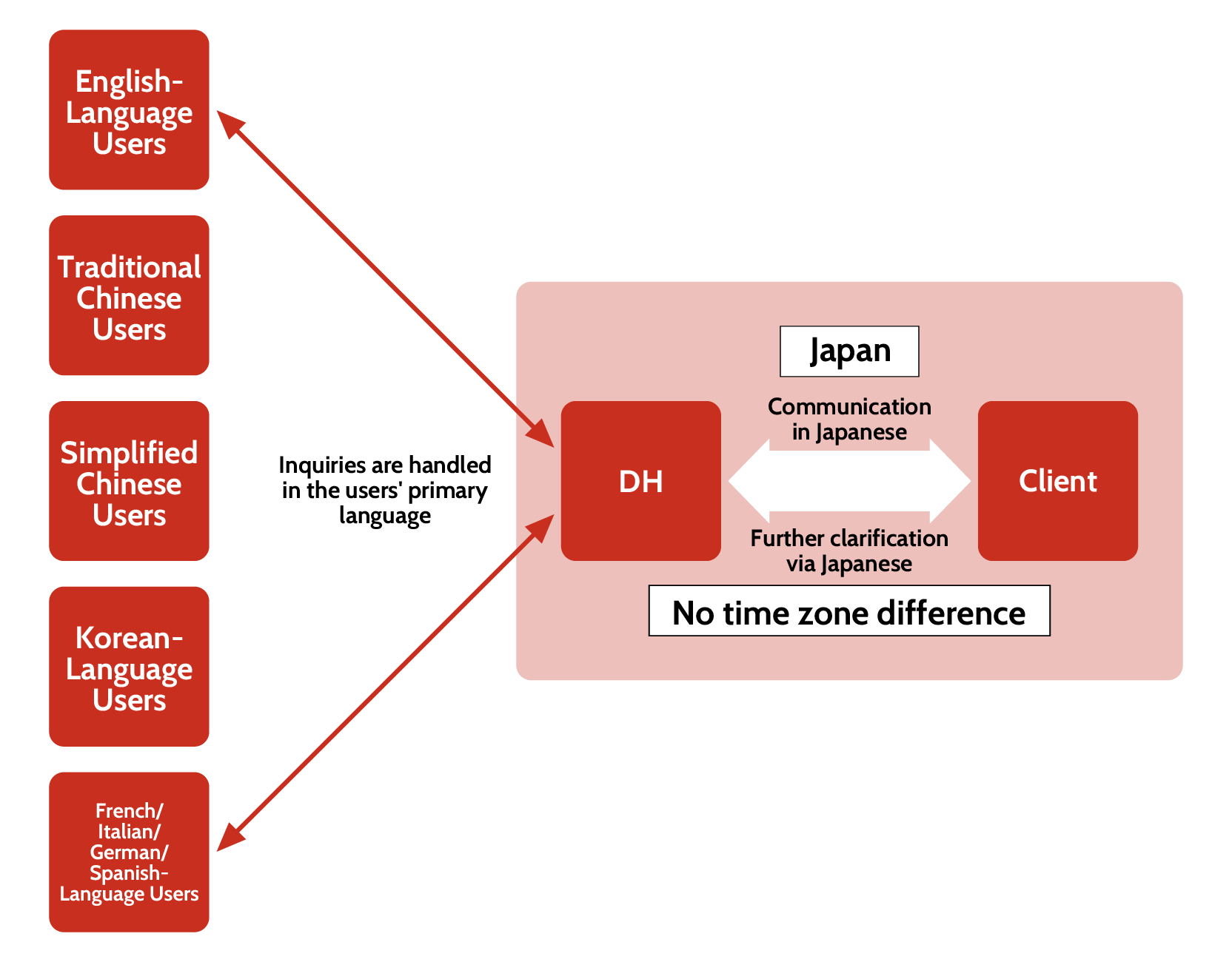 What are the benefits of consolidating our services in Japan?
• Concentrating our services in one location lets us bypass time zone differences and enables us to handle emergencies in real time.
• Each language team is able to receive instructions from management during the same business hours.
• Digital Hearts employs diverse staff and deeply respects the individual values of every team member, which leads to an improved final product.
• Having a direct line of communication reduces man-hours and lowers expenses since we do not have to run multiple work sites.
Compliance with GDPR and other laws
The General Data Protection Regulation (GDPR) is often a tremendous obstacle when it comes to international expansion, but our company has taken the effort to ensure all on-site supervisors and department heads provide GDPR training to their staff. We also have native speakers of various European languages as part of our team in Japan that can be assigned to work when necessary.
Since our staff are highly skilled and capable of working multiple posts, we are able to avoid the costs of hiring personnel for one sole post; often this can mean saving costs of up to a million yen per month for each additional language.
Lower translation costs
Some companies can charge as much as a million yen to handle severe customer support inquiries, but we have opted to offer the same service at the same rates as our standard customer support package.
All of our localization staff are proficient in Japanese, eliminating the need to translate into their respective languages.
In the event of abrupt, unexpected surges in user inquiries, we have flexible operators willing to work extended hours to ensure they are answered in a timely manner
Though we have teams based overseas, we offer our assurances that there is no risk of our services in Japan being compromised.
Should the need arise, we are able to handle any sudden requests you may have, whether that involves working extended hours or changing shifts around.
Our customer support operators have a full understanding of the guidelines for escalating cases when they translate, speeding up productivity
A frequent issue within international customer support services is that translators do not follow established guidelines and are unable to keep their reports concise. This can cause huge delays, as it takes more time for their queries to be processed and answered.
Under our framework, we assign operators who are bilingual in Japanese and English, and then have their submissions double-checked by a native speaker of Japanese before sending them over to the client.
This system ensures that no submissions come with incomplete Japanese summaries and improves productivity overall.